AlphaSpace
by endla
Reduce CAPEX, decrease OPEX, and increase production with industry leading completion auto-design software custom implemented for your unique wells.
The software is nothing short of amazing and certainly makes my job a lot easier.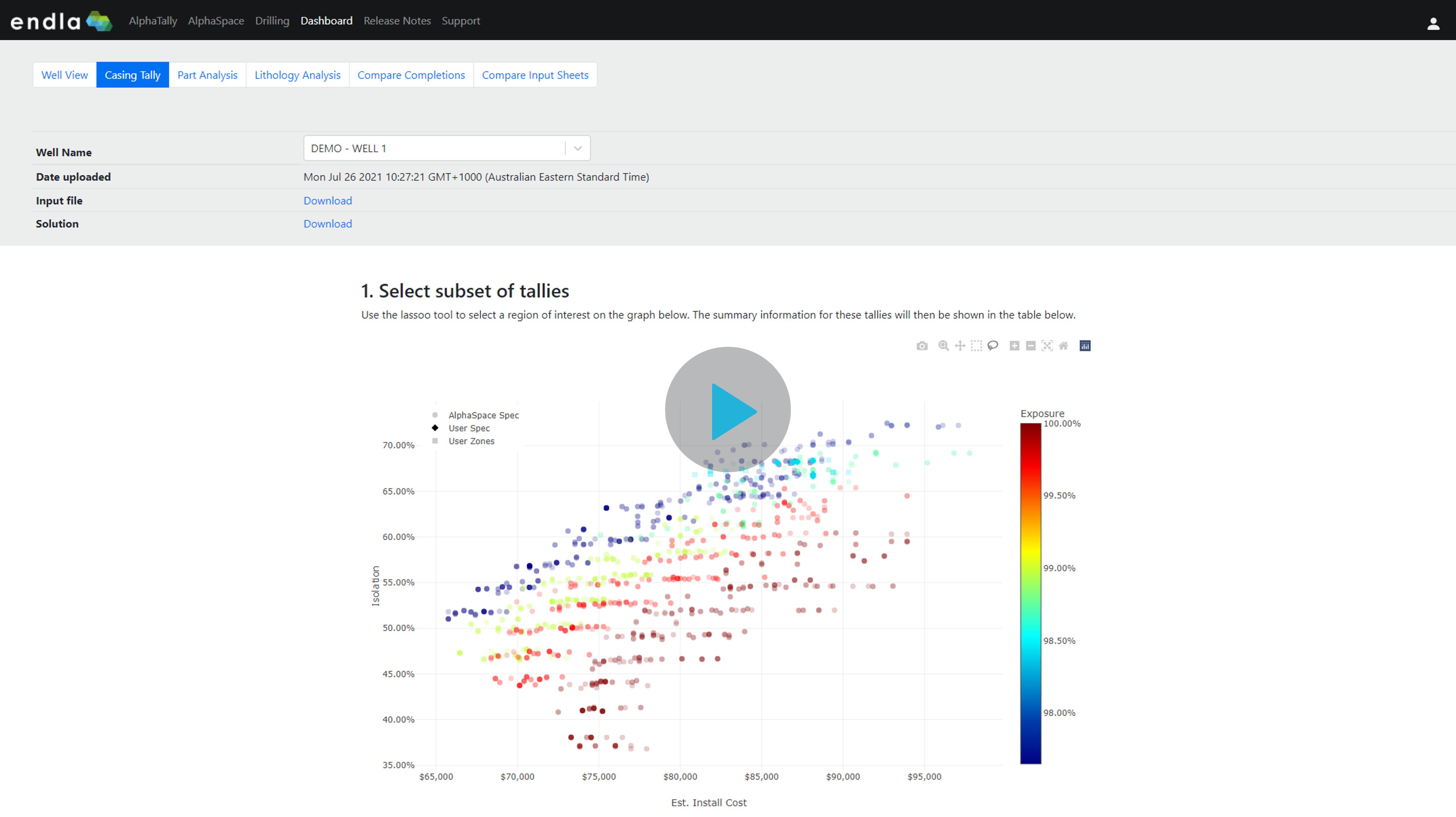 How AlphaSpace delivers value
Reduced well installation cost
Efficient designs

Reduce rig standstill
Reduce part usage
Reduce manual handling

Fast and simple

Logs to tally in 10 minutes OCR can focus on running the completion

Consistent

Highly repeatable performant designs
Consistent selection of company-wide optimal design
Improved well lifetime outcomes
More performant designs

Optimize production zone grouping
Increase mean time between workovers
Edge cases significantly increase captured coal

Cross-functional objectives

Dynamically balance, install cost, coal exposure and isolation

Continual improvement

Through rapid feedback of learnings into well designs

Flexibility

Free technical debt holding back change to better approaches (packer installation rules)
Designed from ground up to handle changing requirements
Enhanced engineering productivity
Cloud app

Virtual teams can collaborate from anywhere
Step change in available compute means engineers can analyse more information

Information transparency

Enable review of design process to ensure organisation wide objectives achieved

Continual improvement

Through weekly and monthly iteration of software driven by your needs

Simplify & Focus

Reduce IT infrastructure and technical debt
Integrates into existing workflows
Case Study
AlphaSpace is the evolution of AlphaTally. The industry proven software resulted in a step change in performance for coal seam gas companies over existing solutions.
70 Tallies Generated
Senex Energy Ltd
Existing solution was for the operating company representative to manually complete the tally
Endla's software was implemented and used on 70 wells in the backend of the 2019/2020 Project Atlas and Roma North campaigns in the Surat Basin
Senex continues to use Endla's software today.
Endla's tool saves us time and enables us to increase the number of packers, which improves the completion design quality and has resulted in significant value-add to the wells drilled on this campaign.
Saved 140-200 hours of rig time by reducing completion design time
Improved isolation performance by an order of magnitude while using the same or fewer parts
Reduced frequency of events with suboptimal selection of parts available by improving the inventory allocation
Improved well performance by making better hardware placements
Ready to add value to your operations?